TRAVEL BACK
Well the day started with Pam still looking for the day she lost…Paul as usual started breakfast…
The container arrived early during the night, and the Father came for a discussion before starting the day.  He also wanted to discuss the projects that he would like to accomplish in his hospital in the near future.  Discussions regarding upgrades, needs were discussed.  He asked me again for a report which as I said before was wonderful.
In the OR first thing, we did a bilateral hernia with a cord cyst and hydrocele, followed by a biopsy on a arm from the man that I am convinced he has a sarcoma.  After the biopsy was done and will be taken back to Canada with the previous biopsies that never made it to Brazil.   I saw all my cystic Hygromas patients.  I was worried about infection so I took the drains out early, but to my chagrin I have to put those back.  So I drained all my cysts and installed a drain.  One small boy we have to give Ketamine and Valium to be able to get anything done.  He went to recovery room which has no personal to look after theses patients….so different than Canada.  All our patients were doing very well with minimum sequella's … amazing…
We did receive the container on the last day.  We all realized that we have to be careful what we send to Zinvie.  It is a basic hospital so we cannot send supplies that they may not use.  Instead, as Alex pointed out, we can send it to Brazil and they will use it.  No one can believe how much waste for us (great supplies for others ) we are sending and not using in our own country.  As he said and many others, Canada must be rich to send all of this to them….There is so much organization to do and help with, and I think Pam and Joanie have great ideas for this place.  I have to say Pam, Joanie and Paul have made a big difference this week with all of the consumables.  They may not think they did, but small steps is what is important…So the container was separated as per University, the zimvie hospital and the school.  Thank you thank you for all that contributed. We made many people happy.
We do need to send an electric plug converter (220 to 110) to allow the electrosurg machine to be used, they need anesthesia machines that work and Monitors that can be in the recovery and OR.  They need it so desperately.  With the help of Paul, we will try to help the OR with possible machines from SSI but they have to be functioning, or from where ever.  We need Monitors and shelving units to help organize the consumables in all the rooms.  We will need man power to take care of that.
We then left to go see the school from the sister Marcelina's.  Bumpy road, bad bad roads due to the rain, (we could see why patients did not make it to the hospital) we arrive there to see a nice project developing very well.  10 teachers total for 300 kids, grade 1-4 plus kindergarten….  What a nice place.  They are looking for teachers and would be happy to help if any teachers want to spend some time with them  Just email me at lbourget@scotiasurgery.ca and I will give you the proper email address.
On our return, we quickly cleaned the house, packed, and one last round on patients.   All patients were OK, the small infant still had his pulse oxymeter on that was bigger than his foot, the 2 thyphoid fever patients were still alive… wow..unbelievable….returned to the house after saying some good byes and left to the Airport…Good byes were fast so less emotional than last time.  I was with Father Marius ( the general surgeon and the priest) that will make a very large difference in this hospital.  We talked about vision, where we can help, what to do to help, and the types of teams required.
There is no question that we are very welcomed at Zimvie.  We need teams of nurses that speak French but can help with bandages and help teach the BASIC, there is a school of nursing that needs help for that hospital, but also we need to help support the Father and his general surgery skills.  There are many missions going to that hospital and I was amazed to hear that the Italian team had been present for more than 12 years.  There is so much we can help with.
Arrived at the airport to get in line and go to the plane.  After being asked if we had money from the solders at the airport (wanting extra cash for them… corruption) with stand in line to hear Pam's name on the intercom.  Her bag had something suspicious….it was her back massage piece that was long, hard and had a big head on it….once they looked at it they were OK… but as Pam and I said… it could be mistaken for many many things…..well we get on the bus to go o the plane and I guess Pam get's called again… this time was a mistake but it scared her and Joanie.  Arrived in Paris to say bye to Alex and Juliet… what an amazing team we had.  Like the first team with all the brazillians but smaller and closer…We all got along well, yes we are all type A personality… but all did some amazing surgeries, helped patients, the hospital… all helped to cook, clean… and I even learned how to play crib..all of us there to help the hospital to become that much better…we can all be very proud of what we did.  Paul and Juliet formed a very good team, calm collected and complimented each other… even  may be even learned something ,,,,Alex, and Myself complimented each other well, like we had done this for so long, we could read each other's next step….Judy did amazing… her head was often spinning because of translating, answering to all our calls, surgeons, anesthesiologist, nursing staff, sterilization, patient advocate, other surgeons, priest… sometimes all at the same time….Joanie did very well, her laugh, sense of humor, help recover patients, made people around her feel very at ease.  She and Pam tried communicating and she had a very good meeting with the Father, who told me he really appreciated and hopes to do that again with Joanie.  Pam, worked very hard, in an environment which was different, she helped with organizing the rooms for locals, helped with instruments, helped with bandages and assisted when ever necessary…Pam, Joanie and Paul worked very hard with the basement stocking and organization… GREAT job…The comment I received from many on the floor is that the "Canadian team bring joy and Happiness and a smile to people…" that is a difference no one can measure….
We walked Pam to her terminal, she left fine (just on time) but then Paul and I walked back to meet Judy and Joanie to leave from Paris to Canada.
What a successful mission.  We can and should all feel good, we all feel we would like to do more, but we all have to realize that a smile, a removal of a pathology, a help getting the hospital to a better place, is all we are asked to do, god will help to make sure the rest continues.
The next mission is being already planned.  For the Brazilians in September (1-15), for us in February 2013.  I hope that Alex and Juliet would be able to come, but we need Paul back or someone just like him, we need nurses French and English that are able adapt to the Zimvie way of doing things.  We all have to lean as much as we can teach.  We need  a general surgeon  and/or OBGYN, family doctors that want to work in ER, translators and people like Pam, Joanie that don't mind doing things.  We all put our ego's aside and all worked together as a team, to get one common goal done together.
God willing…we will continue to help as long as we can, and I truly hope many many people can experience the Joy of giving with receiving a smile and a thank you.
Our "real" work and life has lost that, has lost the sense of fairness and help for each other to reach individual goals.  We had highly trained people on this team, very intelligent and respected individuals, all able to put their individual needs aside to help the group excel at treating people and each other in the best possible way… In a world that we have so much, so much richness, we have lost the common group goal to satisfy individual needs and ego.   It was truly  great to be part of a team that gave themselves to reach a common goal, help the ones that need our help in the best way we can.
Thank you all for this gift and experience that I will never forget.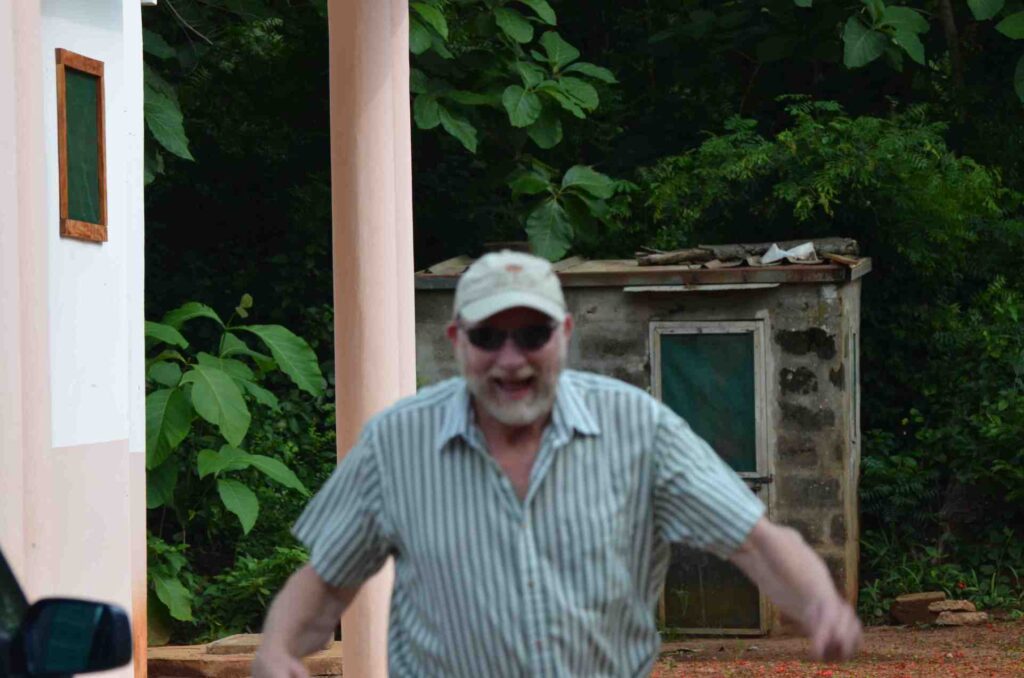 – Louis