5TH DAY OF SURGERY
Well I think God had some plans for us that we did not know.  We rested yesterday but today… well we worked very hard with very difficult cases.
The day started with our usual breakfast and coffee and off to the consultation to find no patients.  Rounds went well and patients doing very well.  The cystic hygroma's we did all did very well.  Even the very large cyst in the neck, I really thought we would see some deficit, neck issues… but nothing..  We took the drains out and will go home tomorrow
Our day started with a bilateral hernia, followed by a 4 day old baby with a spontaneous bowel perforation, then off to ER to see a patient while the other room a leg amputation was being done secondary to gangrene.  Multiple abdominal surgery were being done at the same time so the OR was very busy. We then started the last hygoma which took over 5 hours to do.  It was in the mid face so I had to dissect the entire facial nerve, branch by branch since the cyst was intimate with the skin and the nerve, no plane of dissection just tedious, meticulous dissection.  After losing power what 10 times during the surgery, problems with the tube, patient going into mechanical dissociation , then into ventricular fibrillation to finally back to normal rhythm.  This poor 1.5 y.o. baby finally finished her surgery at 8:00 pm.  We also saw a 60 y.o. man with a funny looking arm, probably a sarcoma, so I will biopsy the arm today…While I was finishing this case an other bowel perforation came in on a 5 y.o. boy that received a kick on the stomach.  Well it was 9:00 when we finished and it is pouring rain.  Judy scared of frogs ran to the house…funny, we arrived at the house to be in meetings with the fathers to discuss our mission… We were all very happy that the father asked for our written input on how to improve the hospital.  As we said it would be and should be baby steps to assure that it get's done.  There is a lot of potential for this hospital, with the new priest that is also a general surgeon, just graduated, and with the missions help, I think this hospital built 30 years ago has a great chance to be great
Pam during the afternoon helped the basemen storage… wow good JOB Pam
As Alex would say it was "too much better"….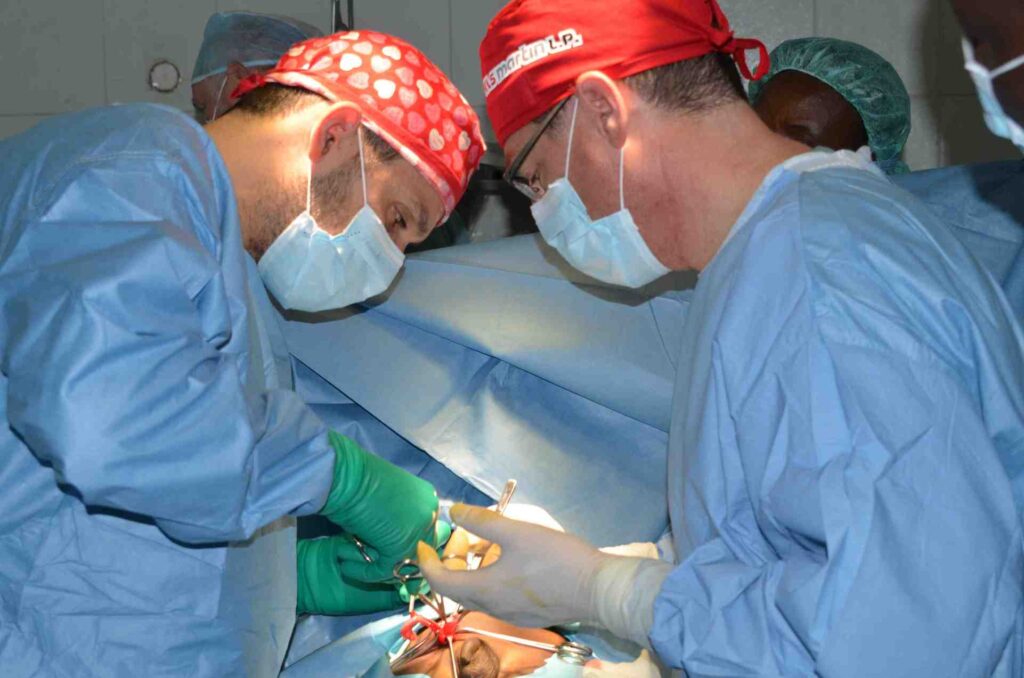 Pam was lost yesterday, she though she had an extra day… funny how time goes buy and we can lose track of days…Upset she did not see the long surgery, but also that we are going home tomorrow.
We were also told that the container should arrive during the middle of the night.
SO a long day, difficult due to the heat and challenging surgeries…but I think we do make a difference to this small population and group of people…..
– Louis
Well it is our last full day here much to my disappointment and shock.  I truly thought it was only Thursday.  And still cannot get my mind around the fact that it is Friday.  I lost a day.
Today was another incredible day her in the third world.  A fighting chance to a 3 day old baby.  He had a spontaneous bowel perforation.  And would have did in about a week.  He was so tiny a success so far but it is now up to him and God. We also did another hernia.  Then in the afternoon I headed to the basement to work on the organized kaoss down there.  Many hours and some progress.  The container has will finally arrive some time tonight.  We will get a few hours to get it emptied tomorrow before we head out tomorrow.  First thing in the morning we have one more surgery and another biopsy on a 16 year who probably will loose his arm.
It is our last night so they are telling me but I really feel like it is not.  However we had a very late night a few beer lots of laughs over some cards with some great new friends.  Miss you guys already.
– Pc